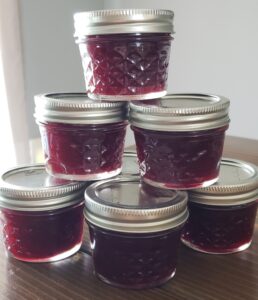 Jump to Recipe
If you're lucky enough to have access to the fresh calyxes of roselle hibiscus (Hibiscus Sabdriffa) then you must make jam! Roselle hibiscus grows great in the Phoenix, Arizona area, click here to learn about growing it.
All you need are fresh Roselle Hibiscus calyxes, sugar and water. You'll make natural pectin with the seed pods found inside the calyxes.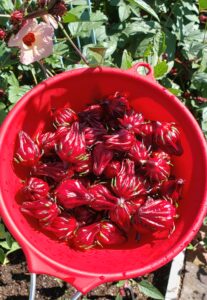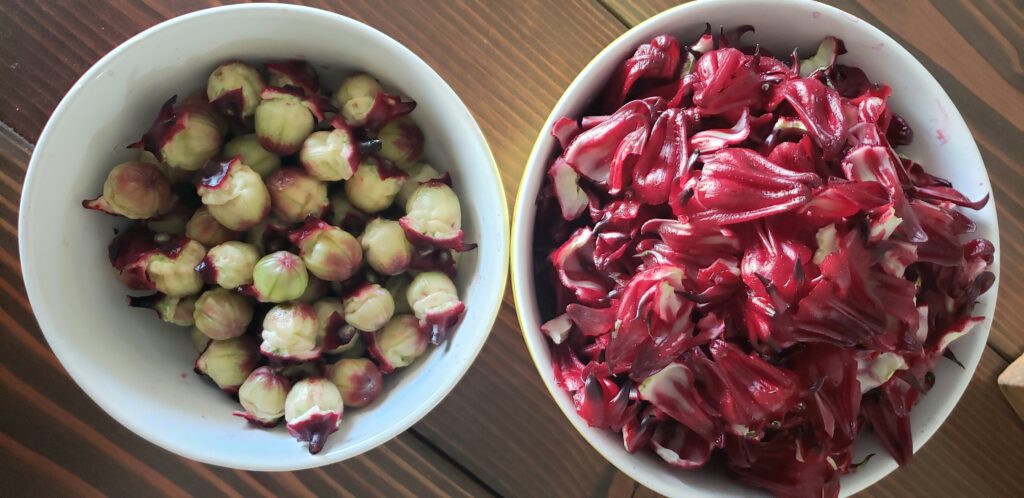 After you separate and wash the 2 parts, cut the seed pods in half and add to a pot and fill with water to just cover the seed pods. Bring to boil and simmer until the water has become thickened, about 20 mins.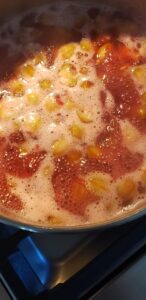 After it's thickened, strain the liquid into a measuring cup. You'll want to add the same amount of simple syrup to the red petals and pod liquid and then bring to boil and simmer until the petals become soft and the mixture thickens. Taste test for sweetness and add more simple syrup if you'd like it sweeter. Then use an immersion blender or regular blender and blend to the smoothness of your liking. You can refrigerate or water bath can it following canning instructions for jams and jellies according to your altitude.
Enjoy your jam on toast, cheesecake or with a turkey sandwich!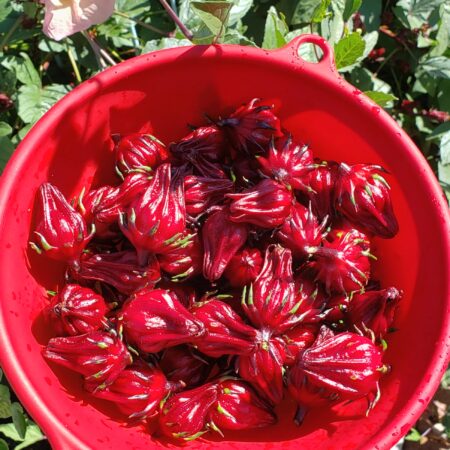 Hibiscus Jam
Similar to the flavor of cranberry with a hint of raspberry, this jam is delicious on toast and cheesecake
Ingredients
6

cups

Fresh Hibiscus sabdriffa calyxes

2

cups

sugar, estimated depending on your taste

4

cups

water, approximate for boiling seed pods and making simple syrup
Instructions
Separate red petals of calyx from the seed pod, wash petals and pods, then cut pods in half

Put pods in large pot and fill with water so it is just covering the top of the pods

Bring to boil and then simmer until the water is thick and coats the back of a spoon, about 20 mins

Strain the liquid into a measuring cup and discard the pods

Make a simple syrup with equal parts water and sugar to make the same amount of liquid as you got from the seed pod liquid

Add the washed red petals to the simple syrup and the liquid from the pods to the pot. Bring to boil and simmer for about 20-30 mins.

Taste test for sweetness and add more simple syrup to your liking

Once the mixture has simmered down and thickened up, blend it with an immersion blender or in a regular blender

Add to jars and refrigerate or you can preserve them by canning them in a water bath and following canning instructions for jams and jellies for your altitude
Check out these other recipes-
Hibiscus simple syrup– https://www.gastronomblog.com/hibiscus-simple-syrup/
Hibiscus Lemon Bars– https://theviewfromgreatisland.com/hibiscus-lemon-bars-recipe/
Candied Hibiscus–https://themanifestnest.com/2016/11/15/candied-roselle-hibiscus/
Hibiscus Liqueur–https://makeityourown.com/recipes/hibiscus-liqueur/