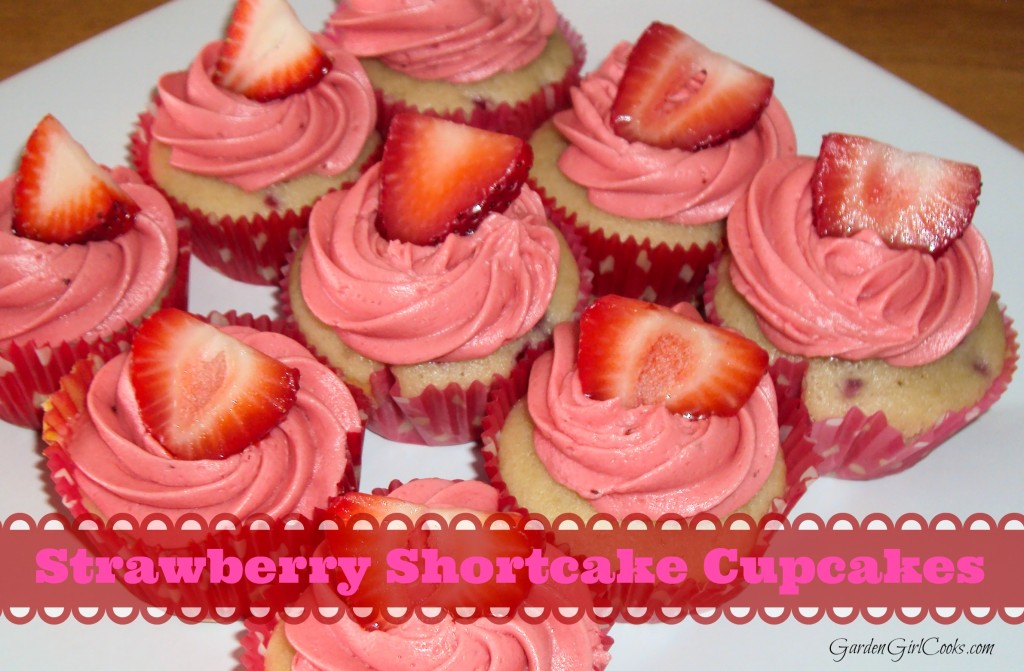 I was craving strawberry shortcake.  I usually need an excuse to make dessert, otherwise I will end up eating the whole thing.  So I decided to make these cupcakes for a little get together I was having.  My friends that moved away to Colorado, were going to be in town for a wedding, so we planned a little reunion party with all our old co-workers.  It was really fun and great to see everyone.
Strawberry shortcake is probably not the best dessert to serve to a big crowd.  Who wants to assemble a large quantity of strawberry shortcakes?  Not me!  I thought strawberry shortcake cupcakes would be perfect, so I started my search for the perfect cupcake and frosting recipe.  I came across this recipe from Damn Delicious and thought it sounded really good.  I doubled the recipe and it made about 24 cupcakes in a regular size cupcake pan.  I couldn't find freeze dried strawberries for the frosting so I decided to see what other strawberry buttercream recipes I could find.  I found this recipe from Add a Pinch.  Instead of the strawberry syrup I used strawberry jam.  I used a natural strawberry jam with no added coloring and the frosting came out a little off white, so I had to add some red food coloring.  I really don't like to use food coloring, but I didn't want to have ugly cupcakes.  I should make my own red food coloring out of beets 🙂  I will put that on my do to list!
These cupcakes were a huge hit!  The cupcakes were the perfect combination of cake and biscuit.  It really seemed like I was eating strawberry shortcake!  In my opinion, buttercream frosting is the best frosting for cupcakes.  This strawberry buttercream was creamy with the just a hint of strawberry to compliment the strawberries mixed into the cake. You should make these Strawberry shortcake cupcakes immediately!  They have fruit in them.  That makes them healthy, right?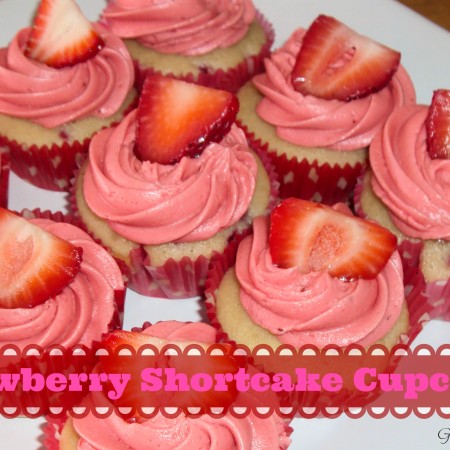 Strawberry Shortcake Cupcake
Ingredients
Cupcake
2 1/4

cups

all-purpose flour

1/4

cup

corstarch

2 1/2

teaspoons

baking powder

1/4

teaspoon

salt

1

cup

sugar

4

large eggs

2 1/2

teaspoons

vanilla extract

1/2

cup

vegetable oil

1/2

cup

butter

melted

1

cup

whole milk

1

cup

diced strawberries

24

strawberry slices for garnish
Strawberry Buttercream Frosting
1

cup

unsalted butter

room temperature

3 1/2-4

cups

powdered sugar

sifted

4

tablespoons

strawberry jam

1

tablespoon

vanilla extract

2

tablespoons

half-n-half

heavy cream or whole milk

pinch

of salt

3-4

drops of red food coloring
Instructions
Cupcake
Preheat oven to 350 degrees F.

Combine flour, cornstartch, baking powder and salt.

Beat sugar, eggs and vanilla on medium speed until light and fluffy, about 2 to 3 minutes. Add in vegetable oil and butter, beat until combined well.

Alternate adding in dry mixture and milk. Start with a 1/3 of the dry mixture, then add 1/2 of the milk, continue until all ingredients are incorporated. You should start and end with the dry mixture. Do not over mix.

Fold in diced strawberries.

Fill 24 regular cupcakes liners that have been inserted into regular sized cupcake baking tin. Fill to a little more than 3/4 full. These cupcakes don't rise a lot. Bake for 15-18 minutes until a toothpick comes out clean. Remove from oven and cool completely on a cooling rack.
Strawberry Buttercream Frosting
Cream together butter and powdered sugar, adding powdered sugar 1/2 cup at a time.

Add the strawberry jam and beat until mixed in.

Add half-n-half, cream or milk one tablespoon at a time until the frosting holds it's shape.

Add a pinch of salt and the red food coloring.

Beat slowly at first then increase speed for a final 20 seconds or until the red food coloring is mixed in and the color is consistent throughout.

Refrigerate for about 30 mins until the frosting firms up. Pipe onto the cupcakes and add the strawberry slices to decorate.